Following the success of Seco's award winning customer magazine – EDGE – a web version has now been launched giving customers the opportunity to read the magazine online.
The new website 'edgeupdate.com' has been created to give Seco customers all the content of EDGE magazine on the web. With the same informative content, professional photography and sharp design elements, 'edgeupdate.com' has the ability to reach customers worldwide and increases the possibility of sharing articles via social media.
'edgeupdate.com' will contain the same content as the magazine as well as bonus material, such as photography and films. Laid out in a way that is easily navigated, 'edgeupdate.com' will be filled with case stories, product information and knowledge.
Pekka Södervall, Director for Marketing Strategy and Communication, says, ' 'This move is important for us as we now have another channel by which we can enlighten our customers, capture feedback and reach a wider audience'
Click here to view Seco's EDGE website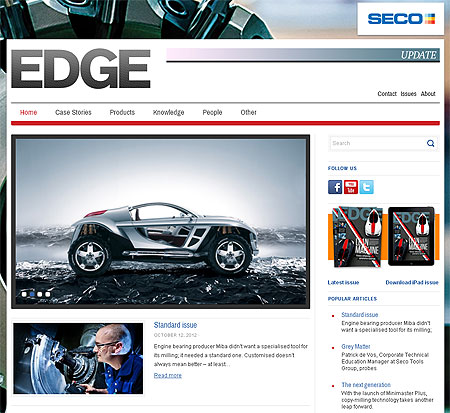 Tags
Seco, drilling, milling, turning, EDGE
---
Return to Latest News