Since our formation in 1999, Toolrunner Ltd have successfully established ourselves as Aberdeen's premier supplier of Engineers cutting tool consumables and related equipment. A comprehensive stock of the latest technology in solid and indexable carbide tools together with the more traditional High speed steel products is available from the Toolrunner warehouse situated in Dyce, Aberdeen.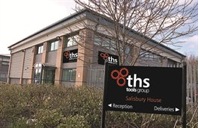 Toolrunner Ltd are members of THS Tools Group, the UK's largest buying group for independent industrial distributors with over 100 Members and 180 Suppliers. THS has demonstrated year on year growth despite some challenging economic conditions and continues to flourish. With its highly experienced sourcing and distribution specialists, THS has developed into much more than an effective industrial buying group. THS Members have a collective turnover of £300M. THS is committed to providing the best quality systems and processes to manage the relationships between Members and Suppliers which is illustrated with the LRQA ISO 9001 certification.
In addition Toolrunner has added a Machine Tool Sales & Repairs Division. We have immediate access to new and pre owned Machine shop equipment from bench grinders and pedestal drills through to full CNC Machining centres. Our fully equipped Engineering Department are available for onsite machine tool installation, repairs and maintenance. We believe that Toolrunner are the only company to offer such a service in the Aberdeen area, saving on client's machine tool down time.
One of the areas where Toolrunner has gained a loyal client base is On-Site Machining. Due to the often-urgent nature of this style of requirement, Toolrunner has a growing reputation for expedient turnaround in both product supply and tooling package advice. This reputation has led to the latest development in the company's plans to provide a complimentary service from the Aberdeen facility.

Toolrunner Ltd in association with E.H Wachs Ltd are offering clients a full range of Split Frame Pipe prepping, Flange facing, Line boring and Bore welding machines for rent or sale. A full maintenance and technical advice service is also available from the Aberdeen facility.
E.H Wachs are suppliers of On-Site Portable Machine Tools. With a substantial proportion of their client base located in Scotland, there has always been a consideration to open a facility here. Having a related product and customer portfolio, Toolrunner Ltd and E.H Wachs (Europe) Ltd fit perfectly together to combine their expertise to forge ahead in this joint venture.
Managing Director Chuck Milne is pleased to report that his decision to deal with customers in a more "Traditional Style" i.e. specialising in a core product, providing full technical support which is coupled with off the shelf availability, has proven to be the key to the continued success of Toolrunner Ltd.